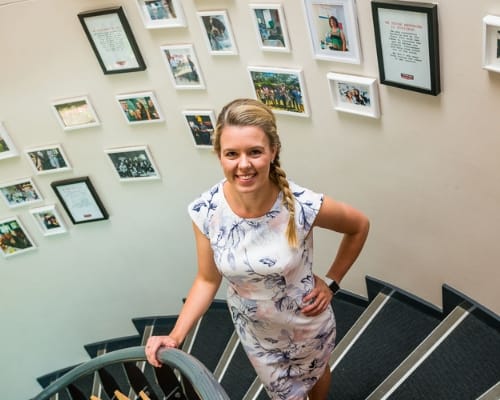 Brittany Jamieson
Brittany joined the Threesides family as our Administration Assistant. She comes to us from a career as an administrator in the hospital sector where she had to be super organised and have exceptional customer service skills, to get the job done. We have reaped the benefits of her career as she systemises our procedures and is freeing up the marketing team, to spend more time with their clients and less time buried in admin (which we all know is not what we were hired for!). Her experience in human resources (HR) and change management is leading the way in the development and rollout of our Sharepoint intranet, the revamp of our HR policies and the mapping out of all our online systems to ensure our customer's journey matches the quality that we educate our clients to employ.
Brittany's skills come packaged with such a friendly smile, a 'can do' and 'customer first' attitude that our clients love working with Brittany as much as we do, so we occasionally let her escape the office when clients need that next level admin experience to run their next event, liaise with stakeholders or manage a complex admin project.
Outside of the Threesides world, Brittany is an avid traveller, with Hawaii being her destination of choice. In fact, she loves Hawaii so much, she's visited there 6 times and counting! She loves spending time with her young family and her very mixed breed dog, Billie. We can chalk her up as another win for team iPhone too!